This is the essay that I wrote for Daejeon University news paper club and they have published it in the Daejeon University news paper. I was lucky to be asked by a Korean girl to write it. Anyway, here is the essay. Feel free to leave some comments. ; )
Hi all, I am Tan Yih Liang and my nick name is LeX. This is my first time in Korea as well as my first time tasting various kinds of Korean food. Well, I will tell you all what I feel about Korean food in this article. I will share with you my thoughts on KImchi,

Samgyeopsal

BBQ, Dteokbokki, and Samgyetang.
Actually, I already knew kimchi back in my home country, Malaysia and it's the representative fermented dish of Korea. Even though I knew it, I never tried it before. The first time I tried it was during my 1st day in Korea and it was on the way to Daejeon University. Our bus stopped by at a food court and all of us (Asean Student exchange) had dinner. During that time I was very excited to try it out, but when the KimChi touched my lips, I realized that it was cold!! And then I tasted it. It was
spicy and sour
. Honestly, I did not like it at all and the main reason is, it was cold!! In my country I never ate any cold dish for meal that's why I disliked it so much. But after a month in Korea, I started to like it because the cafeteria serves Kimchi every meal and never misses it once!! No choice!! Have to taste it. Now I almost got used to it!! Anway just want to say "chalmogosimnida" to all the cafereria officers.
As for Samgyeopsal BBQ, I tasted it during my 1st time to walk around Daejeon City. I was surprised that the restaurant served us with raw slices of pork belly meat that we grilled all by ourselves alongside with some side dishes. It was very interesting!! There were few side dishes included, sweet Corn, lettuce leaf, KIMCHI, onion with soya bean paste, salad and so on. The meat tasted great and I loved it very much!! But actually there is a proper way to taste
Samgyeopsal
, usually the meat is placed inside a lettuce leaf with some cooked rice, a paste made out of chili and soybean and sometimes served with large green chilies and slices of garlic, as well as a spring onion salad. Wrap it all up and place into mouth!! And WOW!! It tastes ultra best!! All this is typically accompanied with soju. Anyway, even though we have finished all the meat, some part of my stomach obviously weren't satisfied yet!! And we plan go to eat it again next week!! OH NO, now I suddenly feel so hungry! After finishing this article I'm going to eat

Samgyeopsal

!!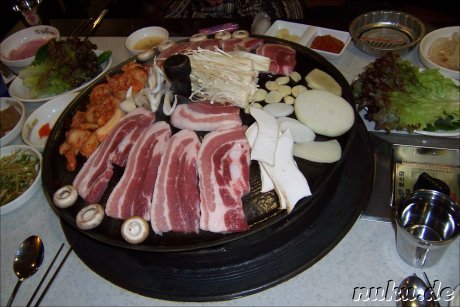 Next, Dteokbokki is the Korean snack that can be easily found around the street. This consists of broiled sliced rice cake, meat, eggs, and seasoning. This Dteokbokki is served with red & orange color sauce. Actually the 1st time I tasted it in Korea was when I was with my friends on the way to Hana Bank and we suddenly saw several stalls with red cover. Those stalls really attracted us and we went to check it out. The shape of the rice cake looked quite weird for us. But after tasting it with the egg, fish meat and the red & orange color sauce, it tasted really good and we all loved it. Since then, almost every time we go out, we do not miss to eat Dteokbokki. It seems like it became a necessity for all of us to eat when we go out.
Lastly, Samgyetang!! When I think about it, 1st thing that appears on my mind is an expensive Korean Ginseng. Actually, Samgyetang is a Korean soup with whole young chicken, glutinous rice and Korean Ginseng. The soup smelled like ginseng and it came with a whole chicken. The meat of the chicken is very soft and very comfortable to chew and usually after a bite of the chicken, drink some soup and eat a spoon or two of glutinous rice and ginseng. It tasted like when I'm in love with somebody, really romantic!! During that time, I went with three other girls. Luckily, they all did not manage to finish their chicken since it was a whole chicken. You know how girls are and so they gave it to me and I felt even more romantic and happier!! ARRRRR!! I thanked them very much!!
I'm almost 1 and a half month in Korea, now. I feel like all the Korean dishes that I tasted before were really interesting and tasty. I cannot wait to taste more!! Oh!! My stomach keeps knocking!! I need to go and have some dinner with all those meals that I have mentioned above!! Anyway thanks for reading!! See you soon!!